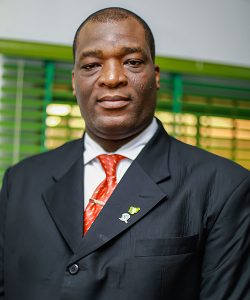 Professor Uwuigbe Uwalomwa graduated from the Delta State University in 1998 with a B.sc (Hons) Accounting. He attended University of Benin and Covenant University, Ota where he read MBA (Master of Business Administration, 2003) and M. Phil. (Accounting, 2005) respectively.  He holds a Ph.D in Accounting, 2011.  He also attended University of Lagos where he read M.Sc Accounting, 2012.
Prof. Uwuigbe started his lecturing career at the Federal College of Education Kastina, where he did his National Youth Service Corps (NYSC) between 1998 and 1999. He joined Covenant University as a lecturer in June 2004 and has remained in the services of the University, till date. He has served in various capacities which include, but not limited to the followings: He is currently the Chairman, Covenant University Student Discipline Committee from 2017  till date. He was the Head of Department, Accounting, School of Business, Covenant University Ota, Ogun State, from 2014 to 2016. He was also Chairman, College of Business and Social Sciences Conference and Seminar Committee, 2014 – 2016. He is also Chairman, Departmental Postgraduate Studies Committee, from 2014 till date. Others are: M.Sc Examiner, Obafemi Awolowo University, Ile Ife. Osun State. He is a member of the Research Cluster on Environmental, Sustainability and Integrated Reporting Issues, 2014 till date; Member, Covenant University Sage Implementation Committee, 2016 till date; Member of Departmental Representative of College Publication Committee, 2010 to 2012; He has been  lecturing in Postgraduate Programme (M.Sc. And Ph.D), 2012 till date. He was an adviser to students at various levels between 2012 to 2014 sessions. He is currently a member of the Board of Covenant Microfinance Bank Ltd. He has supervised over one hundred students at B.Sc, M.Sc and PhD levels.
Prof. Uwuigbe has published several articles in learned journals and chapters in books. He was a recipient of several achievements/scholarship, Fellowships and Prizes awards. He attended several Conferences both locally and internationally. He is a member of the following associations: Fellow International Institute of Certified Forensic Investigation Professionals, USA (FCFIP); Associate Member: Association of Certified Fraud Examiners, USA (ACFE); Member, Chartered Forensic Educator; ACTI: Associate Member: Chartered Institute of Taxation of Nigeria; Associate Member: Nigerian Institute of Management; IBM Academic Certification: IBM Predictive AnalyticsModeler Award; Member: Network for Business Sustainability; Member: International Corporate Governance Network (ICGN); Member: ICGN Accounting and Auditing Practice Committee (AAPC); others are: Associate Member Chartered Institute of Tax of Nigeria (chartered) (ACTI); Member: Chartered Global Management Accountant; and Member: American Institute Certified Management Accountant.