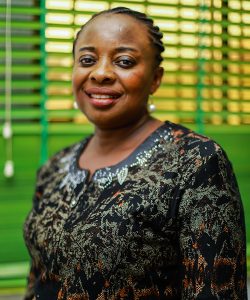 Professor Chinonye Love Moses graduated from the University of Jos in 1991 with a B.Sc Degree in Accounting (Second Class Upper Division), She attended University of Lagos and Covenant University, Ota, where he read M.sc (Management, 2002) and PhD (Business Administration, 2009) respectively. She also holds Master of Business Administration from University of Jos, 1997.
Professor Moses has a wide – range teaching experiences. She lectured at the  Universities of Jos, part time (1992 – 1994), Centre for Continuous Education; Plateau School of Accountancy & Management Studies (1992 – 1996) Jos; Plateau State Polytechnic, (1993 – 1996),  (part time) Jos Campus; Delta State University, Lagos Study Centre (1999 – 2001); and Lagos State University (2002 – 2003), Anthony Village Campus, Lagos.  She joined Covenant University as a lecturer in June 2003 and has remained in the services of the University, even till date.
Professor Chinonye Love Moses and her writing have won numerous awards and honors. She specializes in Entrepreneurship, Women Entrepreneurship, Intrapreneurship, Social Entrepreneurship, Research Methodology, Creativity and Innovation, Agro-preneurship, International Management, Small Business, Micro financing, Marketin, Strategic Management, International Business, Organizational Behaviour, Consumer Behaviour, Comparative Management, All Business and Management Related Courses. She has served in various capacities at Covenant University. She has published several articles in learned journals and Chapters in books. She is a member of Nigeria Institute of Management. She is also a member of the Institute for Operations Research of Nigeria, and the Academy of Management of Nigeria.