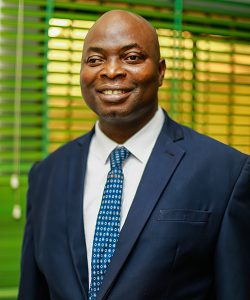 Professor Ayodele Ariyo Adebiyi graduated from the University of Ilorin in 1996 with a B.sc Degree in Computer Science.  He also holds Master of Business Administration from University of Ilorin, 2000. He attended Covenant University both for his M.Sc in Management Information System (2006) and a Ph.D (2012) in the same field.
Prof. Adebiyi had worked with reputable companies such as Sagem SA as Technical Assistant, (March 2002 – August 2002), Mebits Technologies as a Programmer/IT Trainer (Jan. 2003 – Feb. 2004) and Systemspec, Lagos where he served as Programmer (March 2004 – Aug. 2004), before his sojourned into academics field. He started his lecturing career with Kwara State College of Education (Oct. 1998 – Dec. 2000). He joined Covenant University in 2004 and has remained in the services of the University, till date. He has served in various Academic Leadership Position which include, but not limited to the followings: He is currently the Chairman,  University ICT Committee from 2017 till date. He is a member of Examination Questions Moderation Committee from 2008 till date. He was the A.g HOD (Computer and Information Sciences) 2014 – 2016. He was also the Coordinator of MIS Programme, 2012; Coordinator IT Services, University. He was the Coordinator, CU/New – Horizon ICT Training, 2012 – 2016.  He was also the Coordinator IT Services, University Consultancy Services 2013. He was a member of the University Business Committee, 2012. He was also a member of PG Program & Courses Dev. Committee 2012. He was the Chairman, Departmental Curriculum Review Committee 2010 – 2013. He is currently a member of the Board of Covenant Microfinance Bank Ltd.
Prof. Adebiyi has published several articles in learned journals and chapters in books. He is a member of Computer Professionals (Registration Council of Nigeria) (CPN). He is a member of Nigeria Computer Society (NCS), and the Institute of Electrical and Electronics Engineers (MIEEE).