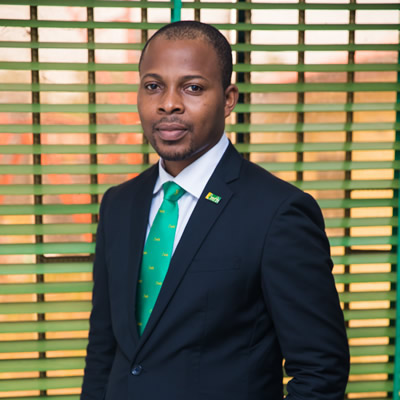 Pastor Peter Atolagbe is the Managing Director/CEO of the Covenant Microfinance Bank Ltd. Despite his enormous task, he is presently supervising the bank's transition from its local reporting framework to the International Financial Reporting Standard (IFRS). He holds an MBA, Finance from Ladoke Akintola University, Ogbomosho, and an HND in Finance from Kwara State Polytechnic, Ilorin. He is a Chartered Microfinance Banker of the Institute (MCIB). He is also an Associate of the Institute of Chartered Economist of Nigeria. He is an ordained Pastor of Living Faith Church.
Pastor Atolagbe started his banking career in 2008, and by dent of hard work and unwavering commitment, rose through the ranks to the position of Ag. Managing Director/CEO of the bank. He was the Head of Operations of the bank for five years. He also served as the Head of the Treasury/Investment of the bank.
Pastor Atolagbe is an astute banker with more than 13 years of banking experience. He has a good carriage and possesses many enviable leadership qualities. He has an innate drive for delivering results on assignments. He has attended several banking and Management courses, which include the CBN/NDIC organized Microfinance Certification Programme (MCP) levels I & II.